MAP-CUBE

Tenute Sella - Wine
Juan E. Sandoval (Colombia / Italy)
Fossati Marco s.n.c. - aluminium
the wine territory
Juan Sandoval's idea is inspired by the area where the wine is produced, therefore with the climate, the ground, the water and the cellar. On the sides of the cube, images of old and recent maps of the vineyards.
The structure of the cube is made from large sized sheets of aluminium with rounded corners produced by the company FAAC di Marco Fossati. Also, through two holes made on the top face of the cube, it is possible to see an internal light box photograph of the vineyards.
TIMESCALE FOR REALISATION: 16 hours
MATERIALS: Outline and curved sections of structure in aluminium. Sheets of 1mm incised aluminium. Photo montage of the aerial and panoramic view of Castello di Montecavallo on light box.
TECHNIQUE: Use of fused curved sections, and extruded outlines, joined together with the centro di lavoro (work centre) technique, and by grinding and punching. The incised aluminium sheets have been cut by a machine with double heads, and refined. In order to be then glued directly onto the border outlines. On the inside, the light box.
Juan E. Sandoval - artist
Sandoval's work deals with the relation between story, identity and communication. His recent works, objects, urban interventions and videos, deal with the different aspects of hybridisation as a way to read cultures.
He has developed projects in collaboration with cultural associations working on migration issues. He has worked with members of the indigenous communities of the Amazon region and the Andis. His current research arises from analysing the history of the relationship between some cultures of the Colombian Amazonian region and the western culture development pattern.
He has been, along with Filippo Fabbrica, curator of the two editions of Methods – research project on art-society relations, of the exhibition Geography of Change at Cittadellarte (2004- 2005), and of two workshops of shared interdisciplinary planning, in Venice and in Gorizia.
Since 2002 he's the manage of the Art Office of Cittadellarte-Fondazione Pistoletto.
Contacts: www.tropicalworld.net
FAAC DITTA FOSSATI MARCO S.n.c - aluminium
Quality, experience and sobriety have been the key words for the work of this firm since 1926, the year the business was founded by Marco Fossati as a metal carpenter. These values have been handed on to successive generations who have known how to embrace new technologies, introducing techniques for aluminium work and Alucobond. Work spans from the construction of aluminium fittings for new residential complexes, to the restructuring of period buildings using substitutions without masonry interventions. The technical workshop is at the vanguard in terms of project planning and software, guaranteeing the clients a complete service of consultancy and assistance able to satisfy any request. Thanks to the experience gained in the sector, the technology and the advanced machinery (numerically controlled) that assure precision in the work, products are made of high quality and function.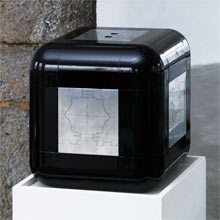 click on pictures to enlarge