KANAVIÇE

F.lli Graziano fu Severino - Fabrics
Çagil Yurdakul (Turkey)
Chiara Ferraris - glass

glass fabrics
A glass cube, on which Chiara Ferraris, using the glass fusion technique, has reproduced the fiordilino, the pure linen jaquard textile that best characterises the Fratelli Graziano enterprise.
The structure was furnished with some shelves created by wires fixed through holes on the side panels of the cube. A door on the front face will allow the exhibited fabrics inside the cube to be changed.
Kanaviçe: Turkish word meaning tapestry.
TIMESCALE FOR REALISATION: 30 hours
MATERIALS: Extra clear 4mm glass
TECHNIQUES: Relief glass fusion made by the cutting of a base of compatible glass onto which cut glass and silhouettes have been placed, in order to form the decorative motif of the fiordilino. Baking time, 24 hours: a first phase of rising temperature, to reach 830°C; and an even longer phase of descending temperature, with periods at different temperatures so that the glass can toughen and achieve an adequate strength.
Fratelli Graziano Fu Severino S.p.a.
Since 1841 Fratelli Graziano fu Severino S.p.a. has produced collections of household linens, embroidered textiles and products and technical textiles. The initiation of production and the commercialisation of sophisticated textiles are thanks to Serafino Graziano. In 1922 Severino, son of Serafino built the premises at Ceresane, fraction of Mongrando, in the province of Biella. Today, still in Mongrando, after five generations of Fratelli Graziano, Severino and Guido Graziano run things and have greatly augmented production capacity by inserting 50 electronic jacquard looms and by computerising each phase of production.
The realisation of all products and the monitoring of each production phase that takes place in Italy, from our premises in Mongrando. The ITF Italian Traceability Fashion of Rome has given F.lli Graziano the mark of traceability, authorised by the Ministry of Industry. The mark recognises that the products of F.lli Graziano are genuinely produced in Italy at Mongrando (Biella). Therefore the final buyer has a genuine guarantee that he or she has bought a completely Italian product.
Contacts: Via Martiri della Libertà, 84 - 13888 Mongrando (BI) - Italy
tel +39.015.666122 www.graziano.it

Fabrics
The main objective of F.lli Graziano is to make textiles of quality that are resistant, with fast colours, ease of use and comfortable. The choice of the prime materials is therefore critical. As proof this F.lli Graziano belong to the consortium Centro Lino Italiano (Italian Linen Centre). The centre is the Italian depository for the mark of quality Masters of Linen. this international mark defines excellente quality European linens. The label is a guarantee to consumers against imitation products.
Visiting the site www.graziano.it, it is possible to see the prestigious products that have made the brand an important name in the world market.
Çagil Yurdakul - artist
She is a Turkish architect- designer, born in 1980, lives and work in Istanbul. During her master period she was invited to be in the UNIDEE residence at Cittadellarte, Biella Italy in 2004, with a grant from Illy. For her residence at Unidee she proposed a project for the renovation of Piazza Cisterna/Biella - La Citta Vecchia and the questioning of the role of design on the space and user interaction.
She has participated in art projects with Cittadellarte and also with other independent artists: Cubi in Movimento, Patterns Istanbul, Saint Etienne Biennale, Istanbul Biennale, Istanbul Design Week. Other than taking part in architectural projects in Turkey, she has been working as a research assistant and teacher at Istanbul Technical University-department of interior design. As well as being a member of the university she has presented papers in conferences : Essay_presentation; Marketing Cities: Place Branding in Perspective, Berlin-2008, ICMEK, Istanbul-2007, MEU_Aesthetic Congress, Ankara-2006, Poster, ICMEK, Istanbul- 2007, Argor Taskisla Magazine, Istanbul-2007.
Currently, she is working on her doctorate thesis at Politecnico di Milano and also participating in some projects about children for Istanbul 2010 European Capital of Culture.

Art & Glass Fusing, by Chiara Ferraris - glass
The art studio "Chiara Ferraris Art & Glass Fusing", offers stained glass, illumination engineering, interior design items and design objects made by glass fusion. The complete personalisation of the products, from their projection to their realisation, the continual research for new aesthetic forms and innovative materials, are all values that the Studio offers. Chiara Ferraris's works have been shown in numerous art exhibitions.
She is currently a teacher of the glass fusion technique at various educational establishments.
Contacts: via Levanna, 29 - 10143 Torino - Italy www.chiaraferraris.com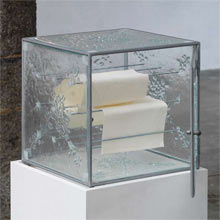 click on pictures to enlarge