CRUTIN

Caseificio Pier Luigi Rosso - Cheese
Alejandro Vàsquez Salinas (Colombia)
Romanelli s.n.c. - stone and marble

small cellar
The stone cube, according to the artist Alejandro Vàsquez Salinas, talks of the process of the production of cheese. In fact, on the top face of the cube there is grass and milk. The lower shelves, that can be pulled out when necessary, become a simple chopping board on which to serve the cheese at different stages of maturity.
The name Crutin comes from Piedmont dialect "piccola crota": small cellar for the cheese seasoning.
TIMESCALE FOR REALISATION: 80 hours
MATERIALS: Balma Granite, Carrara Marble
TECHNIQUE: The surface has been entirely marked and textured- hand worked by a small pneumatic hammer that gives the rough effect. The curves were made by grinding and the cavities excavated, milled and refined. The corners where rounded by hand. Plates and glasses in Carrara marble, were made with the grinder, then refined and polished by hand.
Caseificio Rosso
In Alta Valle Elvo, in 1894, Rosa Pidello Rosso launched the production and curing of traditional Biellese cheeses. Rosa has been succeeded by three generations and nowadays the Rosso family works constantly towards improving the quality and image of biellese cheese. The cheese factory uses milk from 36 biellese farmers and to underline these ties with the territory, for 40 years it has used as its image the "Gipin ", the carnival mask of Biella. The cheese, made by traditional techniques, is stored underground on wooden white fir shelves where it is left to cure. These are the requirements necessary to produce products of excellence such as: Maccagno, Piedmont Toma D.O.P., Toma from Valle Elvo, Castelrosso and Gratin.
Contacts: Via Serralunga, 11/13 - 13900 Biella - Italy tel +39.015.27416
www.caseificiorosso.it

Maccagno Cheese
The Maccagno represents the height of excellence of the biellese mountain toma cheese. It takes its name from the namesake Alp found below Monte Cossarello, north of Biella. Maccagno production began in the fortified areas to the east of the Biellese territories. Consequently the practice began to be diffused throughout the whole of the province of Biella. It was the favourite cheese of queen Margherita of Savoy and of Quintino Sella the Italian statesman and founder of the Club Alpino Italiano.
Alejandro Vàsquez Salinas - artist
AAlejandro Vasquez Salinas is a Colombian artist, born in 1979, lives and works in Medellin. His degree is in Fine Arts from Universidad de Antioquia, 2003. Also in 2003 he was invited to be part of El Puente international project, in 2004 he won a grant from Ermenegildo Zegna, to be in Unidee in residence at Cittadellarte, Biella.
In 2005 the El Puente project, managed by Natalia Restrepo and Alejandro Vasquez was part of XI salon regional de artistas shown in three different cities: Medellin, Pereira, Manizales and in 2006 the El Puente project was part of 40 salon Nacinal de Artistas. In this year Alejandro won the prize for Cubi in Movimento and a proposal for AIM, another Cittadellarte project for promoting Biella Territory.
In 2008 he was invited to be part of the D_art Lab project involved in Turin World Design Capital, and he has taken part in AIM Spaces of Memory Moravia, which is the application of Fondazione Pistoletto's project in a zone of Medellín with social problems.
Today Alejandro is working as designer in his own office.
Contacts: www.portafolioalejandrovasquez.blogspot.com
Romanelli s.n.c. - marble and granite
NIn 1971 founder Giuseppe Romanelli bought a small business premises, thus initiating the company's history. In 1995, thanks to his professionalism and passion for continual development, he moved to a new location. Today the company has become Romanelli snc, and is run by Giuseppe and his son Marco. Thirty-seven years of business have been accomplished, with that same passion and professionalism that has always been the firm's extraordinary strong point.
Contacts: Via Fornace, 9 - 13825 Valle Mosso (BI) - Italy tel +39.015.737529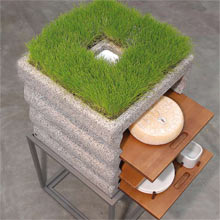 click on pictures to enlarge